DOOWIN collapsible water bladder tanks are normally pillow shaped having low profile, made of heavy duty special application PVC/TPU coating fabric, which gives high abrasion and UV resistance withstand -30~70 ℃. We can make 100L to 500,000L capacities water bladder tanks.
Flexible bladder tanks can storage or transport the bulk liquid for temporary or long-term, such as water,  oil, potable water, sewage, rainwater chemical spillage waste, dielectric oil, gases, effluents and other liquid. Our pillow bladder tank are in use worldwide for agricultural drought, water collect, disaster relief, farms, hotels, hospitals, refineries, chemical plants, irrigation works, ports, remote camps, exploration and mining facilities,  raw material transportation, wine, raw-food material and other application.
How to Choose a Pillow Tank Model?
What should consider before buying?
DOOWIN
2018-01-02T11:58:25+00:00
What should consider before buying?
Pillow Water Bladder Tank Specification
DOOWIN pillow type water bladder tanks are from 0.2ton to 400ton. The below specification is the common size. We also make other size and capacity pillow type bladder tanks upon request. And we also make the open top water storage bladder tanks.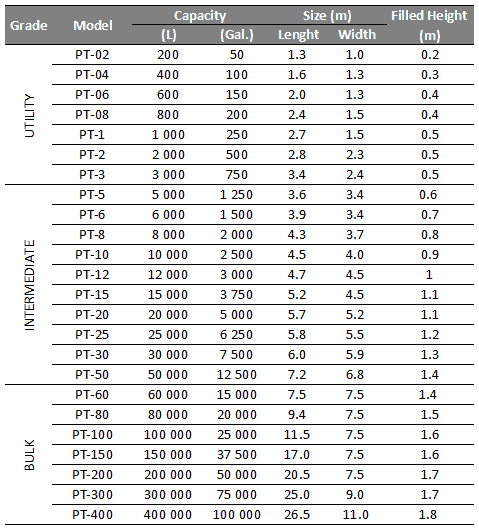 Note: The above specification only for your reference. We maybe change its size without notice.
Visit Home, About Us, Products, Service to get more information.
Configuration and Accessories of Pillow Bladder Tank
D
The water pillow bladder tank standard assembly include fill/discharge valves, quick couplings, air bleed. Various inlet and outlet valves are optional. Stainless steel ports also can be equipped upon request. We also can make other design upon customer's request.  Each pillow bladder water tank will be supplied together with the repair kits free of charge.
Fill/Discharge Valve (2" or 3")            Drain Valve (2" or 3")                   Air Bleed

Please feel free to contact our professional team!
Mobile: +86-185 5486 9267 (WhatsApp)
Email: sales@doowin-dooflex.com
Professional Cast Quality
Excellent quality water bags and reliable service, they deliver exactly what they agree to and perfectly on time.
Awesome to use DOOWIN buoyancy bags for our Aramco project. Its quality completely can be comparable with UK products.
We have confident with DOOWIN. They can help us with innovative solution, well prepared to accommodate to our request.