Gangway test water bags are used for the load testing of gangway, accommodation ladder, small bridge, platform, floor and other long structures.
Our standard gangway test water bags are 650L and 1300L capacity. For the larger gangways and small bridges can be tested with our 1 tonne Matress Bags (MB1000). We also can make other size and shape upon the clients' special request.
DooFlex gangway test water bags are made of heavy duty PVC coating fabric material. Each gangway test water bag equip with one filling valve, one discharge valve, and one air-relief valve. The discharge valve can be controlled by one rope. There are some handles at the both sides. The worker can fix the water weight bags by these handles.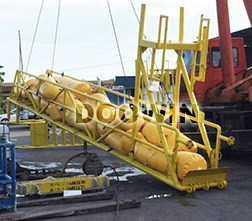 DOOWIN Gangway, Platform, Bridge & Floor Testing Water Bags
Professional Load Testing Water Bags
DOOWIN gangway test water bags are manufactured with SGS certificated PVC coated fabric material.
The gangway test water bags are certificated by BV, ABS, LR third party organization.
Each gangway test water bag is inspected before delivery out.
SGS Material Inspection Certificate
BV Inspection Certificate
LR Inspection Certificate
Professional Cast Quality
Excellent quality water bags and reliable service, they deliver exactly what they agree to and perfectly on time.
Awesome to use DOOWIN buoyancy bags for our Aramco project. Its quality completely can be comparable with UK products.
We have confident with DOOWIN. They can help us with innovative solution, well prepared to accommodate to our request.
Please feel free to contact our professional team!
Mobile: +86-185 5486 9267 (WhatsApp)
Email: sales@doowin-dooflex.com