Flexible Collapsible Bladder Tanks
Fire Fighting Water Tanks
Onion Water Storage Tanks
DOOWIN onion water storage tank are circular shaped low profile self-supporting open top bladders used for water storage, firefighting, and disaster relief efforts. The self-rising floating collard is made of either closed cell foam or air filled.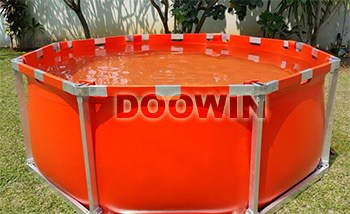 Portable Fire Fighting Water Tanks
DOOWIN portable water tanks are frame type water storage tanks for fire fighting. Portable fire fighting water tank can be easily transport, set up and fill in remote locations. These water tanks have open top, fire hoses can be placed directly into the top for fast filling.
Backpack Water Bladders
For proof load testing lifeboat davit system, DOOWIN offer certificated professional load test water bags 1t~20t. The required proof load testing can be accurately applied to ensure compliance with applicable regulations and proper lifeboat davit testing.